Educational program for Healthcare workers in preparation for the Tokyo 2020 Olympic Games

Our 2020 Study Group is in training to serve the visitors for the Tokyo 2020 Olympic Games. We personally train individuals with the skills needed to serve the English speaking community. Candidates are carefully selected through our screening process. Please send in your resume/CV to be enrolled in the program. Please send in your resume/CV if you would like to participate (details can be found below). Sessions start when qualified individuals enroll.
---
★★★  Operations Coordinator/Leader 6
★★   Daily Operations 21
★ Entry Level 23
---
Nurses, physicians, psychologists, laboratory technicians, pharmacists, receptionists, medical translators, medical students and other healthcare workers may apply. Candidates must be able to communicate in English and Japanese. This program is addressed to non-native English speakers but native speakers may apply if you accept leadership roles within your group. Candidates must be committed to serve the foreign community.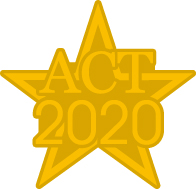 Participants who have completed the requirements will be awarded with a token of achievement. The token is a metal embossed golden star pin. It comes from the stars on an American flag. The 2020 represents our objective of serving foreigners for the Tokyo 2020 Olympic Games. It is intended to identify the wearer as someone who has gained specific skills and knowledge at the American Clinic Tokyo. Only 💯 pins have been made. 70/100 have been issued and 30/100 remain to be issued. So, please consider joining our study group. We look forward to your participation.
IMPORTANT: All candidates must send CV to mikasa@americanclinictokyo.com. Emails addressed otherwise may not be answered.